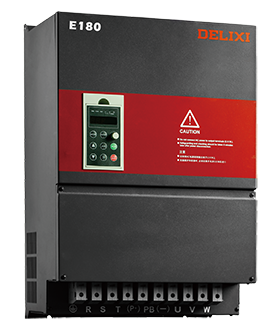 The CDI-E180-series inverter is a stable and versatile high-performance vector control inverter with optimum control modes such as SVC, V/F control and VC, and is widely used in situations with demanding requirements for speed control precision, torque respond speed and low-frequency output torque.
Excellent Performance
Due to the new vector control algorithm, the inverter features large start torque, quick torque response and high control precision to further improve the efficiency of the motor.
Strong Function and Low Cost
The large number of internal function modules such as timer, virtual time-delay relay and math operation modules are as a whole equivalent to an additional small PLC, so that the cost is significantly reduced.
Easy Operation
A special-purpose function is embedded, and the conversion between the special-purpose function and the common function is available through one function code, for the convenience of type selection and flexibility in use.
Flexible Type Selection
The 15kW or below types have standard internal brake units, the 18.5-30kW types can have optional internal brake units, and the 37kW above types shall be connected with external brake units. The 11kW, 15 kW, 200 kW or above types have standard DC inductors, and 18.5-55kW types can have optional DC inductors.
Applications:
Electric power, textile and chemical fiber, building materials, oil industry, chemical industry, metallurgy, municipal facilities, paper-making, food & beverage and tobacco.

The IoE Ushers in Opportunity for The Last Product Recall
In our consumer-centric society, product recall announcements grab headlines and...